International awards
International awards
The GDS's high expertise combined with the innovative applications in buildings, rank it among the leading building automation companies worldwide.
GDS Digital Systems from Greece has been named "National Champion" in The European Business Awards 2014/15 sponsored by RSM International, a prestigious competition supported by businesses leaders, academics, media and political representatives from across Europe.
GDS has won 3 times (2004 & 2006 & 2010) the European KNX Award for the high level of its projects. Its projects in Greece, England, Cyprus, Italy, Egypt, etc, its big expertise and experience, its excellent prices in INSTABUS products and services and of course the consistent response classifying the company into one of the best companies in Greece in Building Automation.
GDS is from now on, officially the only active in the field of KNX, Greek company that have the approval to become a KNX MEMBER. This title remains exclusively in companies that are able to implement, build and distribute software and INSTABUS devices.
GDS is again on top of the world's technology scene: 13/4/2010 Frankfurt. KNX International Special Award 2010 for the largest and most technologically comprehensive building automation project ever undertaken on a global level! The most important distinction in the high-tech building automation, owned in Greece again! GDS won for the third time the International KNX Award 2008-2010. This achievement is unique in world history because no other company or country has won this particular title 3 times.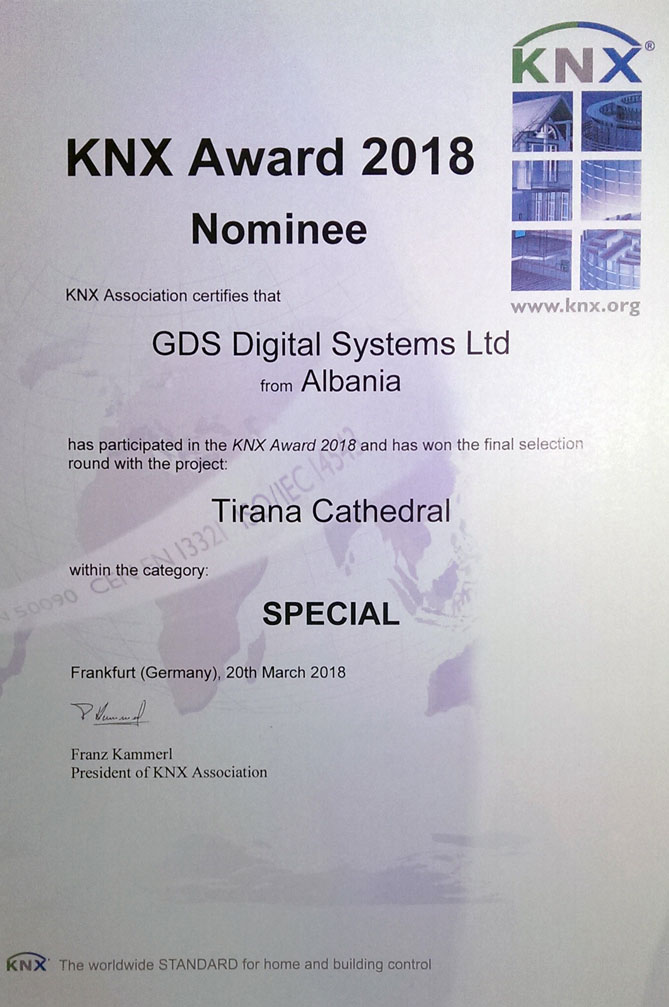 In 2018 GDS was nominated and ranked among the 4 finalists worldwide for an international award for its work "Tirana Cathedral"
Eventually it took second place in the world by choice of the public.
Again in 2020 GDS was found to have been selected in the leading four companies for an award in the category of high energy efficiency for an amazing project in Vamos, Crete.

The new blood of the company in its first attempt, in 2020, was found a candidate in the amongst 8  other in the world in the category of young scientists for the pioneering application of active visualisation that it developed for our company's work in high class rental villas in Maleme, Chania.