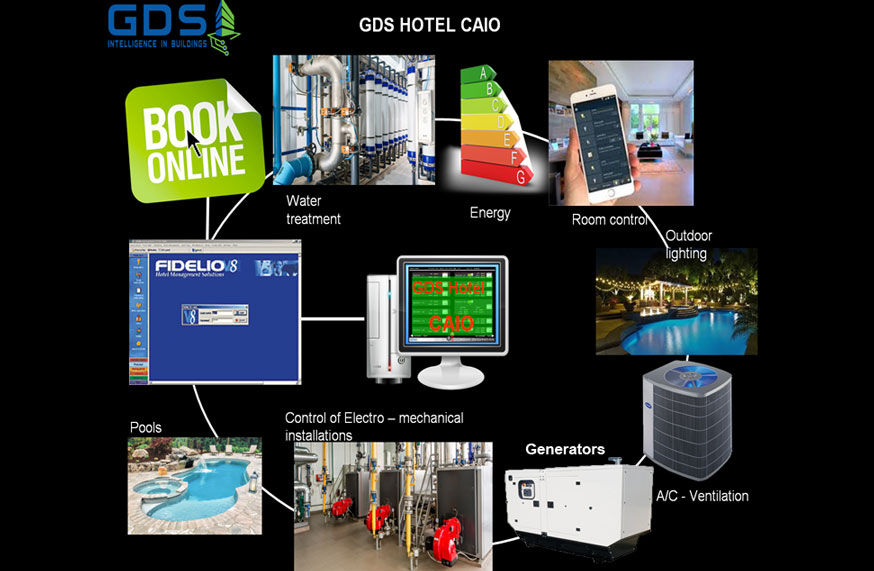 Integrated hotel control system
It consists of different visual representations adapted to the functional needs and structure of the hotel
Technical service
Reception
Rooms – guests
Cooperation with standard hotel programs (PMS)
Power flow control at the hotel
Swimming pool control. Heating and chlorination
Control of central cooling / heating systems
Checking substations and generators
Control of production and distribution of domestic hot water – and with recovery from air conditioning
Outdoor and communal lighting control with automatic operation scenarios depending on the season and outdoor brightness
Control of water tanks, pumps, desalination and pressure systems
Error detection and timely maintenance notification
Automatic watering control
Customers' access to the functions of their rooms
Either from tablets offered by the hotel or from their own smart devices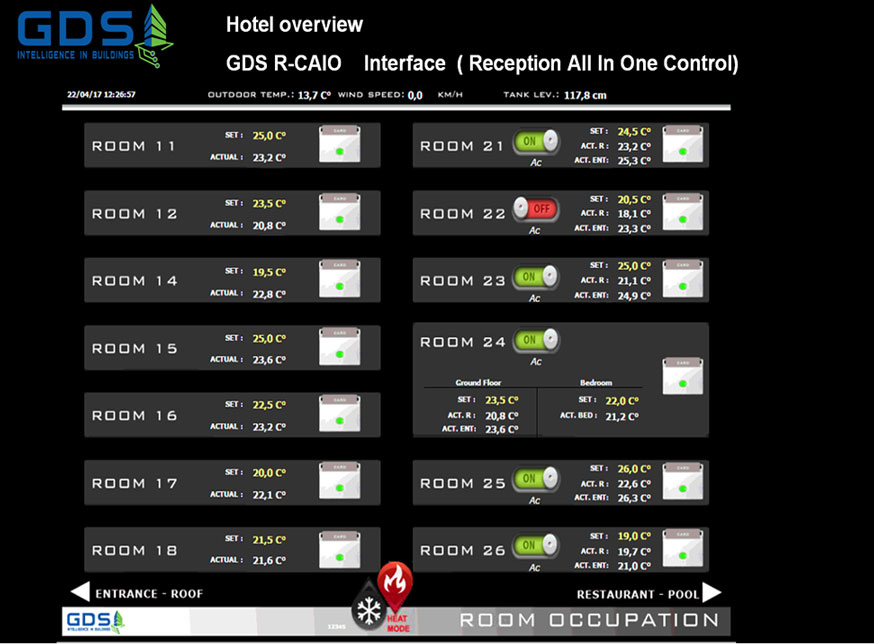 Reception GDS R-CAIO application
At a glance the reception can see if there is a card in the room and the automatic presence recognition system has detected the presence of people in the room. Thus, the behavior of the staff can be adjusted, the cleaning and the technical maintenance work can be planned without disturbing the customers.
It can control room temperatures and help customers adjust comfort temperature conditions without anyone visiting the room.
It can manage lights and shading systems that concern it.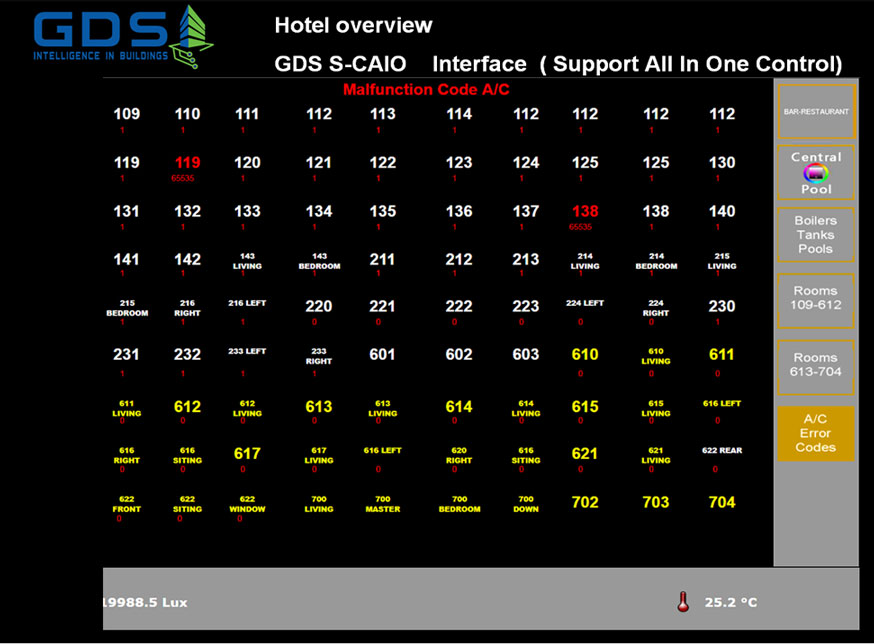 Air conditioning fault monitoring
For each room, the technical service can know the condition of the air conditioners.
If there is a problem with the air conditioner, the room is marked in red and the manufacturer's error code is displayed. For some air conditioner manufacturers, it is possible to display the fault description and not just the error code.
An amazing service that will detect the problem before the customer even detects it and in conjunction with the automatic presence recognition system, the hotel can schedule troubleshooting without disturbing the customer.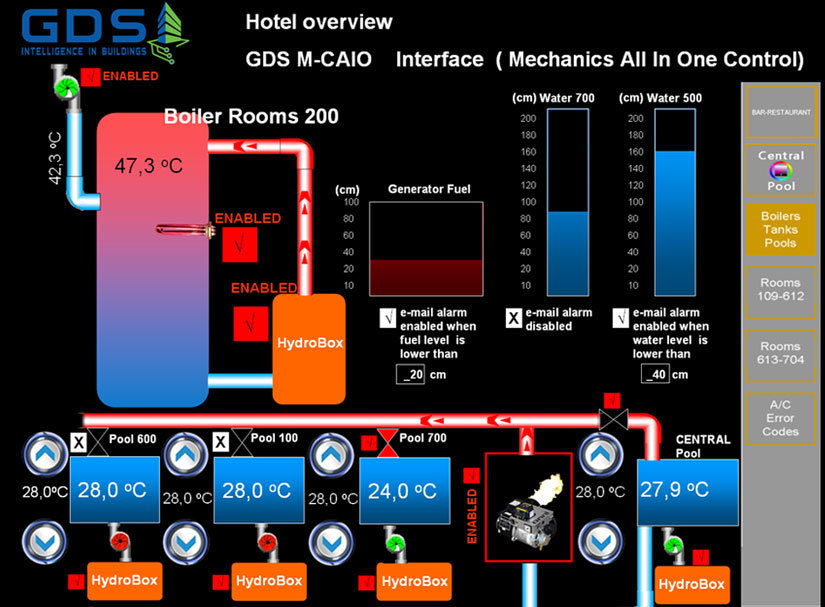 Operation of Mechanical Installations
The technical service can control water temperatures, activate / deactivate energy sources, regulate pool temperatures and chlorinations
To monitor and operate tanks
To monitor and control pumps
Set alarms and choose to receive notifications for:
Content of water tanks
Fuel tank contents
Temperatures outside the limits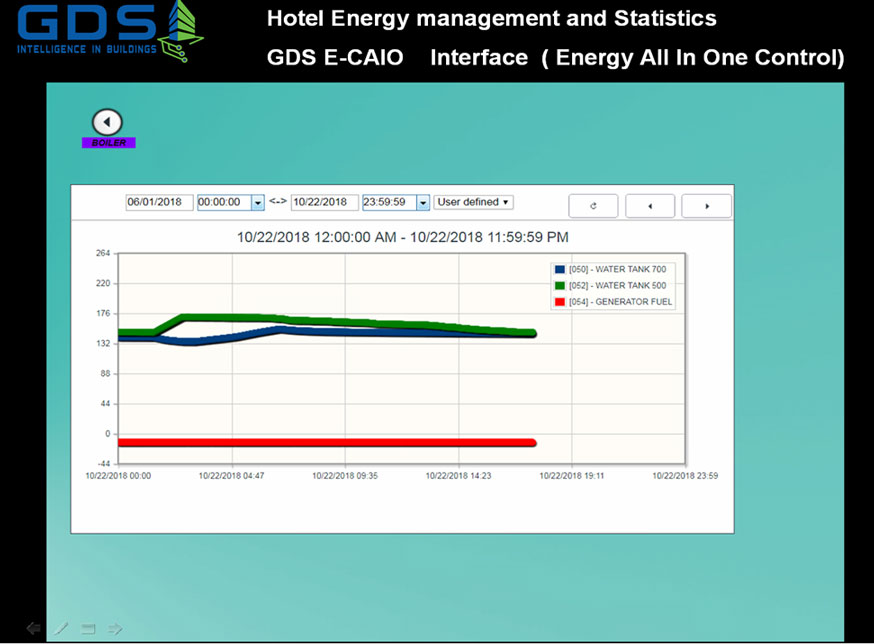 Statistical Data
The statistics module generates related curves
Fuel consumption,
Change tank contents
Subsystem power consumption
It is possible to adjust the diagrams to desired time periods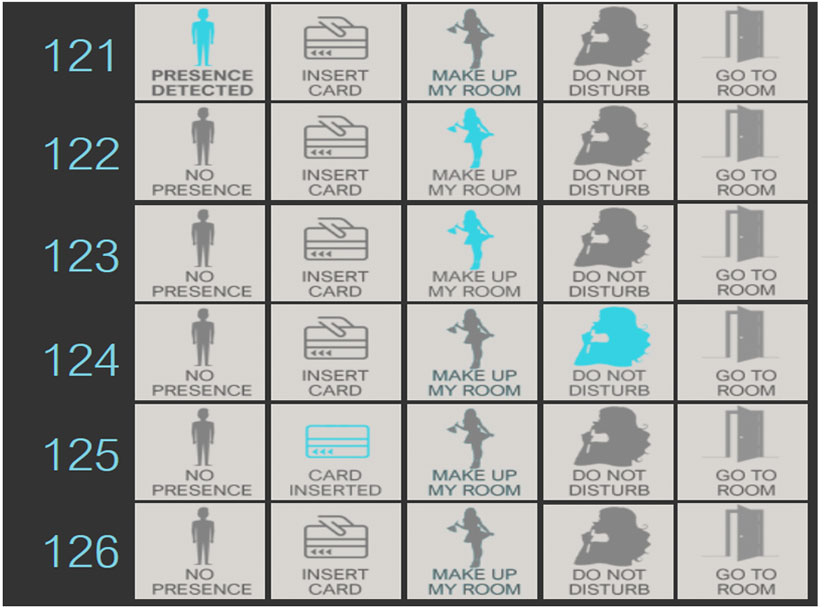 Mate View
Room service staff (cleaners – room service) can on mobile devices (usually smartphones) see the rooms in their area of ​​responsibility and know basic information to effectively respond to customer wishes.
In conjunction with the intelligent presence recognition system it knows if there is a person in the room and adjusts his movements.
Receives the customer's wish to tidy up the room
Knows the situation "DO NOT BOTHER"
If he is an authorized person from the system, he can enter the room functions and handle it in order to help the client to create comfort conditions.
All actions are recorded with a time imprint for reasons of quality assurance of the provided services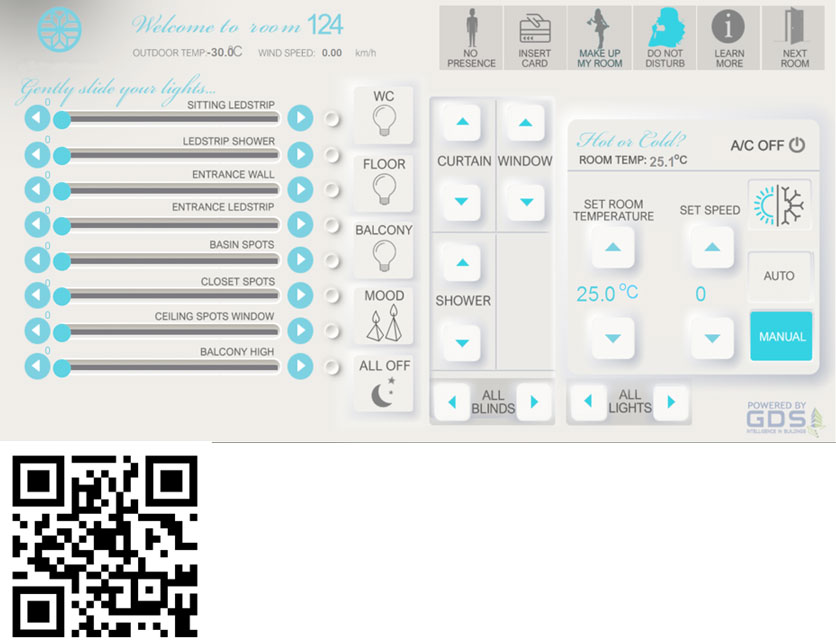 Room View
The system can be in communication with the hotel management system
Thus, during checkin or when changing rooms, a QRcode is automatically generated which the customer can scan with his mobile phone and thus gain access to the functions of the room in which he will stay.
At the same time, the hotel can provide tablets in the rooms so that the room can be operated from them.
The functions displayed and the design are adapted to the character and colors of the hotel.
The keys are carefully positioned for ease of use and the functions are simple and understandable.
There is always a clear indication of actions.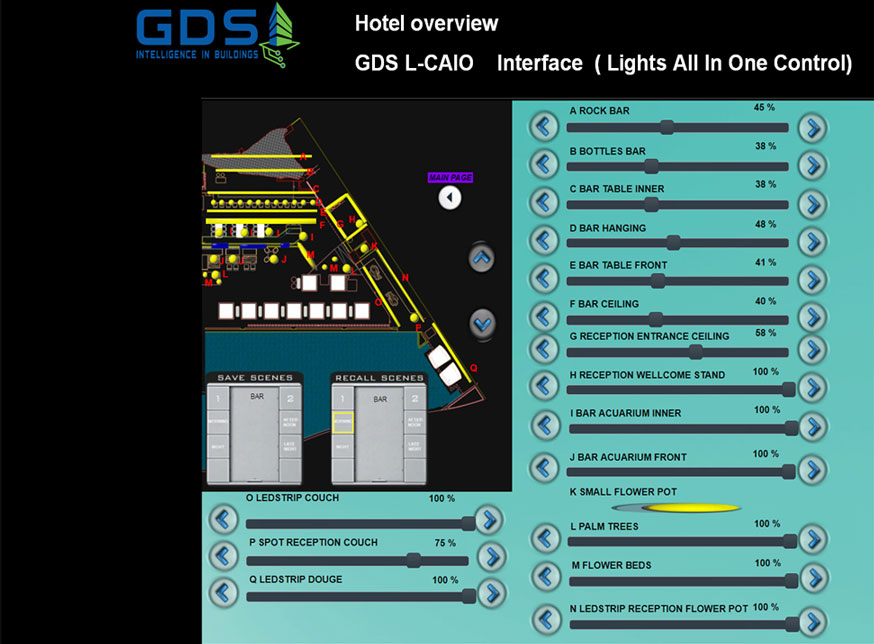 Lighting of bars, restaurants and common areas
Custom graphic lighting management in restaurants, bars, Spa, Reception etc…
Users can save scripts which will either work automatically depending on the external brightness or recall them themselves at the touch of a button
They can operate in a unified environment and the user can manage in a uniform way, different lighting technologies without discrimination.
KNX, DALI, DMX,
Especially for High-end restaurants, where the design is usually low light, the chef can use a tablet, turn on the light on a single table, so that customers can order comfortably and immediately after lowers.
Automatic visual effects processes are supported where the system can, for example, flash the lights automatically when a customer has ordered a "happy birthday"
Automatic scenarios for cleaning and maintenance are supported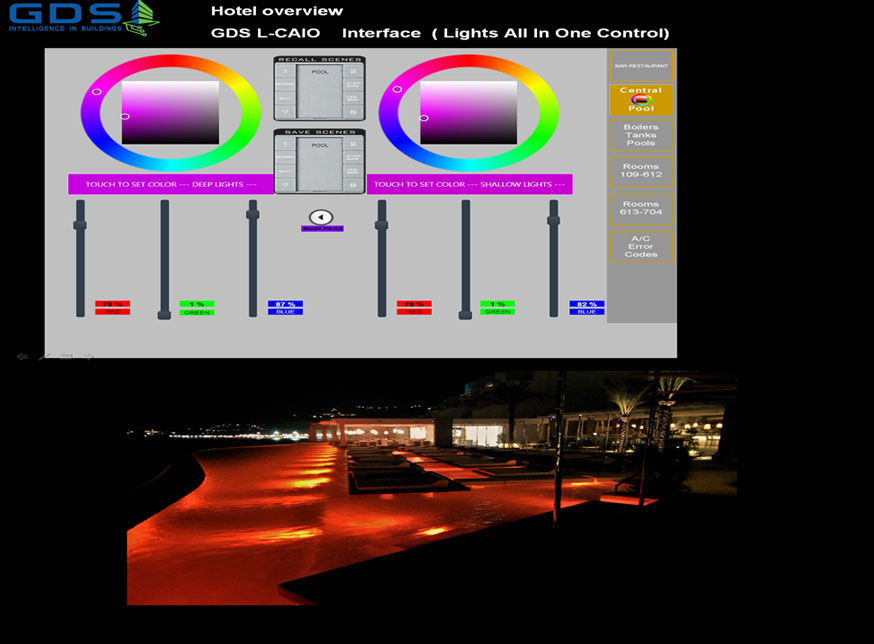 Special lighting effects and RGB control
The module supports all standard color light control protocols
Precise adjustment and storage of desired scenarios
Scenarios can be called either automatically with time criteria and ambient brightness criteria or manually
KNX
RGBW
DMX
DALI